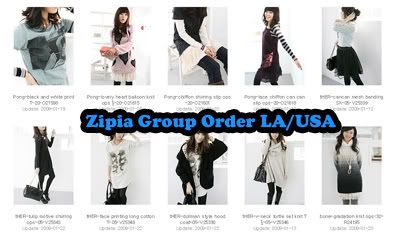 Goal:

0/500
About Me:
I'm Shipping From Los Angeles CA
I love the internet.
I'm studying to become a nurse but I want to do other things with my life.
Feedback
.
xntejano(
AT
)yahoo
DOT
com < for questions
Subject: gggame
About Zipia:
Zipia.net is a wholesale fashion website.They constantly update daily with the latest fashions of Korea. Compared to other sites such as JE551 and CCT fashion,
Zipia
has much better quality clothing. They have a minimum, you have to purchase
$500
to checkout. Plus The shipping is usually over $100. That's when the group order comes along.
Shipping from Zipia from me is 20% total price
.
Before You Order:
-feel free to ask questions
-You do have to pay before the checkout.
-You can choose to hold the payment on shipping till I have items on hand.
-you don't have to have a livejournal account to order.
-Payment is in USD.
-I am not responsible if
Zipia
loses or damages your items while it's being sent to me.
-I can't do trades since this is a group order.
-prices here (especially
zipia
shipping to me) are not negotiable.
-
Zipia
items get out of stock fairly quickly, if that were to happen before I placed the order I'll refund you.
-Shipping is based on weight.
-I accept paypal, personal checks, and money orders.
-I prefer doing orders from Los Angeles and the US but will order internationally(shipping will cost much more though)
Service Fee:
Some people who do
zipia
orders charge a service fee(Between $3-5) but I charge NOTHING.
Shipping:
North America

:
$3: accessories
$4:Light tops and bottoms
$7:Heavy items Thick tops,dresses, and bottoms
$11: Bags and Shoes
Internationa

l:
$5-25
Depends on the weight of your item and location.
Pickup

:
Free
If you live in the
Los Angeles/Silverlake
area you could pick up your item at Bellevue Park or Silverlake Recreation Center/Dog Park.
How To Order:
You have to be log in to browse. Making an account is
free
.
I will ask for item code which can be found in every product page and looks like this:
Most of the sizes in Zipia are labeled "one" to know what "one" is: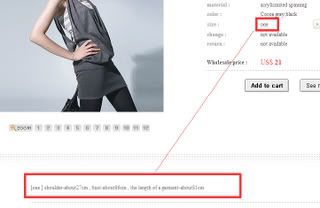 Remember Shipping From Zipia to Me is 20% of your total order so if your total purchase was $28 that would be Zipia shipping $5.60.
Form(do this for each item)
:
Item Code
:
Size
:


Color

:
Quantity
:
Price:
Username:
Email:
State:
Payment Method:
paypal, personal check, money order

Total
: total price + 20% of total zipia + shipping